ISO 14001 EMS Internal Auditor Course

Probably one of the most informative and knowledgeable tutors I have come across
Overview
This highly interactive and practical course is designed to provide delegates with a sound knowledge of all elements involved in auditing an Environmental Management System (EMS) and an auditing skill base, in order to:
Determine compliance and identify areas for improvement against the requirements of ISO 14001 and related standards
Competently conduct effective audits and implement corrective action programmes
Identify areas for continuing improvement that provide on-going benefits to your company's growth and success.
Contribute to the requirements to register as an IEMA Environmental Auditor.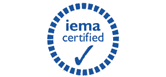 Our course is approved by the UK Institute of Environmental Management and Assessment (IEMA).
Course Objectives
Our course will equip delegates with knowledge of the requirements and principles of ISO 14001 and Eco-Management and Audit Regulation (EMAR), providing them with the skills to competently perform internal EMS audits.
Key Skills / Learning Objectives
Through the combination of interactive tutorials, practical workshops and case studies, our course will enable the delegates to:
Interpret the requirements and principles of ISO 14001 and other EMS standards and codes of practice.
Plan and prepare for an internal audit with an understanding of auditing processes and documentation.
Identify environmental aspects and determine audit priorities.
Create appropriate audit checklists and improve auditor skills and interviewing techniques.
Produce professional audit reports and justify cases for corrective action and improvement.
Achieve the formal training requirements to allow progression to becoming an IEMA Environmental Auditor specializing in EMS assessments.
Course Outline
Defining the purpose and structure of the EMS Standards ISO 14001, Eco-Management and Audit Regulation (EMAR)
Review of environmental legislation and codes of practice
Auditing skills and techniques:

Planning - use of checklists
Interviewing and evaluation of information
Observation - objective evidence
Evaluating the significance of nonconformities
Auditing effective improvement programmes
Corrective actions and effective follow-up programmes

Sources of information and further development
Examination
Who Should Attend?
Those responsible carrying out environmental system audits
Experienced quality auditors who want to audit environmental management systems and who need to show professional competence in this subject.
Environmental auditors needing a knowledge of the EMS auditing process.
Senior managers who will have to evaluate the outcome of internal EMS audits
Booking and ISO 14001 Course Fees
Fees include:
Delegate Manual, including reference information
Training provided by qualified and experienced tutors with extensive practical management auditing experience across a variety of manufacture and service industries
Lunch and refreshments during the day
Residential accommodation and evening meal (2 nights)
Certificate verifying attendance and completion of course
More Information
ISO 14001 course dates and venues
Request further information
In-House training
Associated courses
What our customers say